Extend your OTC pharmaceutical product portfolio with a new delivery system to sooth and relieve sore throat
Product Information: this product is indicated for the local and temporary relief of the symptoms of mild buccopharyngeal infections associated with pain and without fever, such as: throat irritation, aphonia, small oral sores.
Active ingredient: 5 mg chlorhexidine dihydrochloride and 5 mg benzocaine. The active ingredients of this medicine combine the antiseptic function of chlorhexidine with the local anesthetic function of benzocaine.
Mint flavour.
Packing: Blister (2 x 6 tablets).
Dosage form: 1 chewing gum, when necessary, leaving at least 2 hours between each one. Do not exceed 8 chewing gums per day.
Age: Adults and children over 6 years of age.
Manufactured in Spain according to GMP guidelines. Registered in several European countries.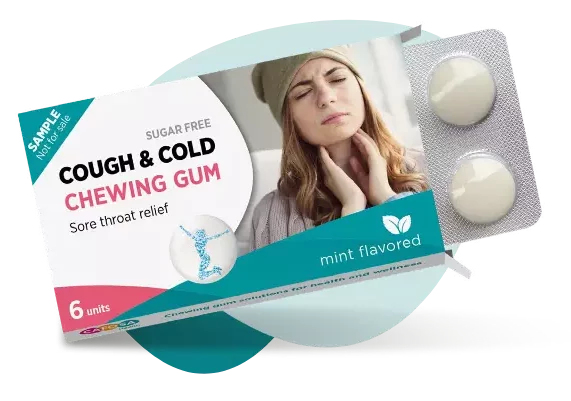 Product developed together with Geiser Pharma